CONFERENCE ON ASEAN-APO COOPERATION IN ENHANCING PRODUCTIVITY
Conference on ASEAN-APO cooperation in enhancing productivity took place successfully on 10 and 11 December 2020 at Grand Plaza Hotel, 117 Tran Duy Hung, Trung Hoa, Cau Giay, Hanoi. Honored to be at the conference with the participation of:
1. Mr Huynh Thanh Dat- Minister of Science and Technology
2. Mr Le Xuan Dinh-Deputy Minister of Science and Technology
3. Representatives of 10 ASEAN countries
4. Mr Michale: Secretary of ASEAN
5. Mr Mochtan: Secretary- General of APO
6. Mr Tran Van Vinh- Director General of Directorate for Standards, Metrology and Quality of Vietnam
7. Mr Ha Minh Tiep- Deputy Director General of Directorate for Standards, Metrology and Quality of Vietnam
8. Mr Nguyen Kim Hung- Deputy Director of Institute of Science of Small and Medium Enterprise Management
9. Nearly 200 representatives attended directly, along with 100 online representatives from ASEAN countries and Asian Productivity Organization –APO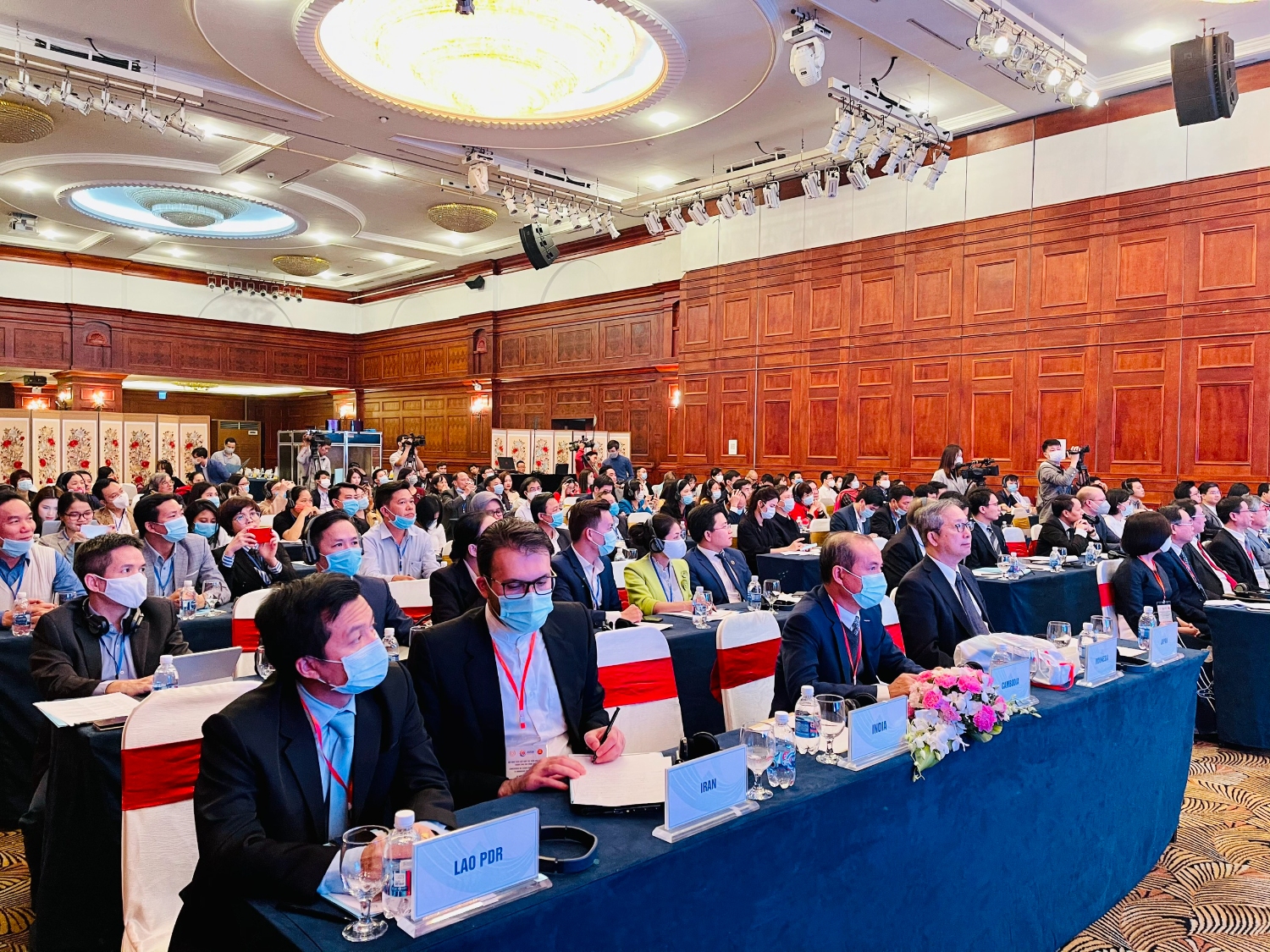 Asian Productivity Organization – APO is an international, intergovernmental non-profit organization founded on 11 May 1961. With 21 member economies, APO is the only organization in the Asia- Pacific region which has many activities carried out in member economies to improve productivity, contributing to promoting sustainable socio-economic development of the region. Today, 8 out of 10 ASEAN countries are members of APO (except for Myanmar and Brunei).
With the permission of the Prime Minister, Vietnam officially became a member of APO since 01 January 1996. Directorate for Standards, Metrology and Quality (Ministry of Science and Technology) is authorized to represent Vietnam's standing office at APO and is the head point for the implementation of APO's programs and projects; bilateral projects with the APO member national productivity organizations.
The conference promotes the cooperation between ASEAN and APO in the field of productivity, is the first forum to connect and enhance the mutual understanding between ASEAN and APO, thereby it is connecting two organizations in the region, exchanging specific content and the way of cooperation, as well as proposing solutions to promote productivity in the region, towards the achievement the sustainable development goals of the United Nations.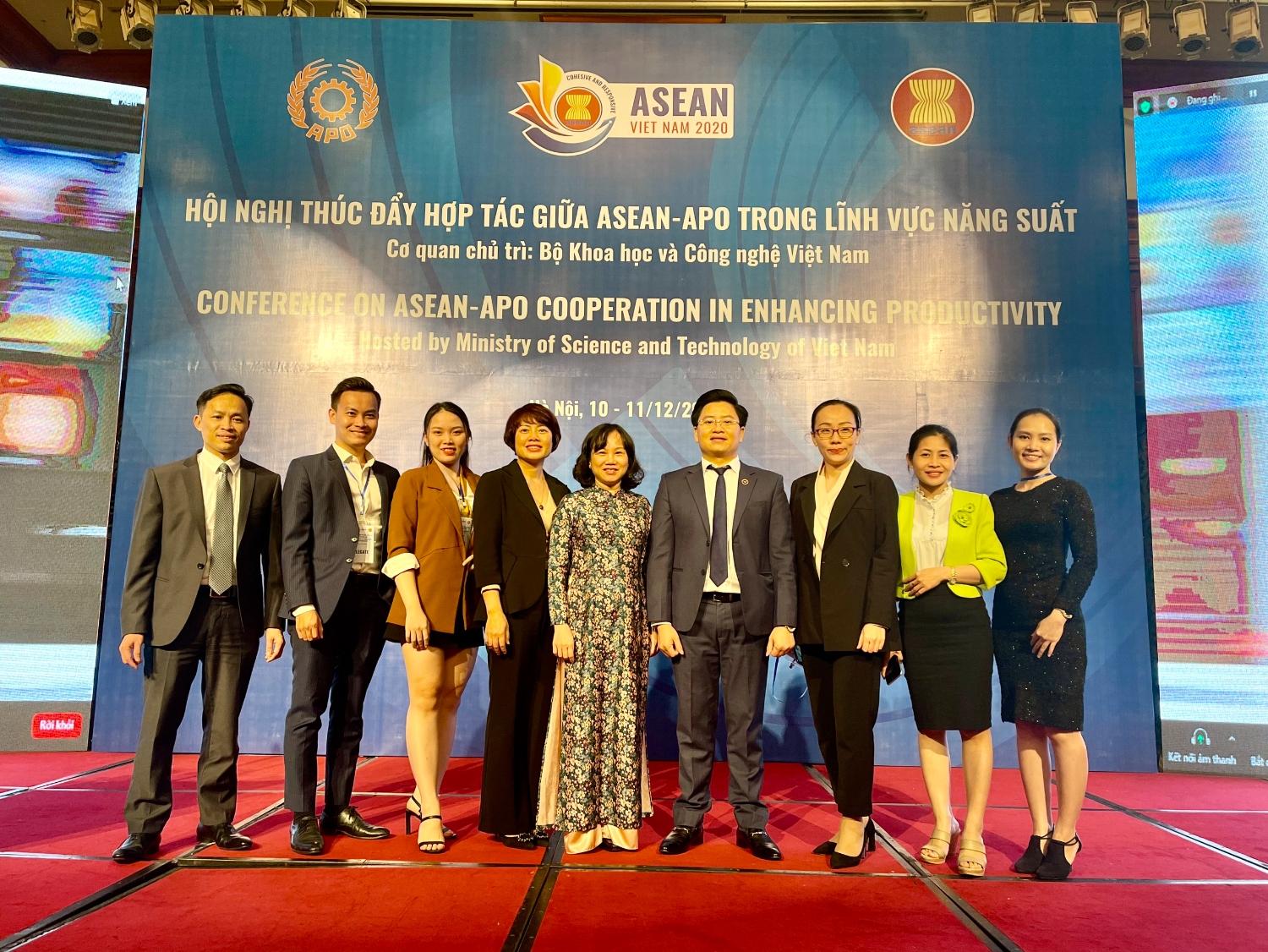 The hosting of the conference demonstrated the activeness and initiative of Vietnam as the Chair of the two organizations, contributing to promote and deepen Vietnam's relations with other countries/territories, international organizations, and promote the cooperation in the region. The conference took place in the year which Vietnam was the Chair of APO and the Chair of ASEAN Consultative Committee on Standards and Quality (ACCSQ).
The conference is also one of the events to implement Vietnam's initiative (proposed by The Ministry of Science and Technology) during the tenure of the Chair of ASEAN 2020 on building itinerary, solutions to approach, promote the smart production for ASEAN countries.
This is one of thirteen initiatives approved by ASEAN leaders in 2020. At the regional level, ACCSQ hosts, coordinates with APO and the specialized committees of ASEAN to build the above draft of itinerary and solution. The Ministry of Science and Technology/ Directorate for Standards, Metrology and Quality represents Vietnam to participate in the development of itinerary and solutions to promote the smart production in ASEAN.
According to the agenda, on 11 December 2020, the content related to promote cooperation between ASEAN and APO in the smart production, is an opportunity for domestic and international representatives to contribute comments to the draft of itinerary and create the opportunities for Vietnam ministries, sectors, localities and enterprises to grasp new ideas as well as global and regional development trends such as digital transformation, smart production and enhancing productivity based on science, technology and innovation to contribute to the formulation and implementation of socio-economic development strategies and policies.
Participants:
- Participants from Vietnam (direct) include: Leaders of Ministry of Science and Technology, Representatives from the Embassies of APO and ASEAN member economies in Hanoi, some international organizations in Hanoi, Vietnamese representatives at relevant ASEAN committees, representatives of ministries, sectors, universities, research institutes and enterprises.
- Participants from overseas (online) include: Secretary- General of APO, Secretary- General of ASEAN, APO Secretariat, ASEAN Secretariat, Leaders and representatives from productivity organizations of APO members, ASEAN standardization offices, ASEAN specialized committees, and international organizations related to the productivity and quality.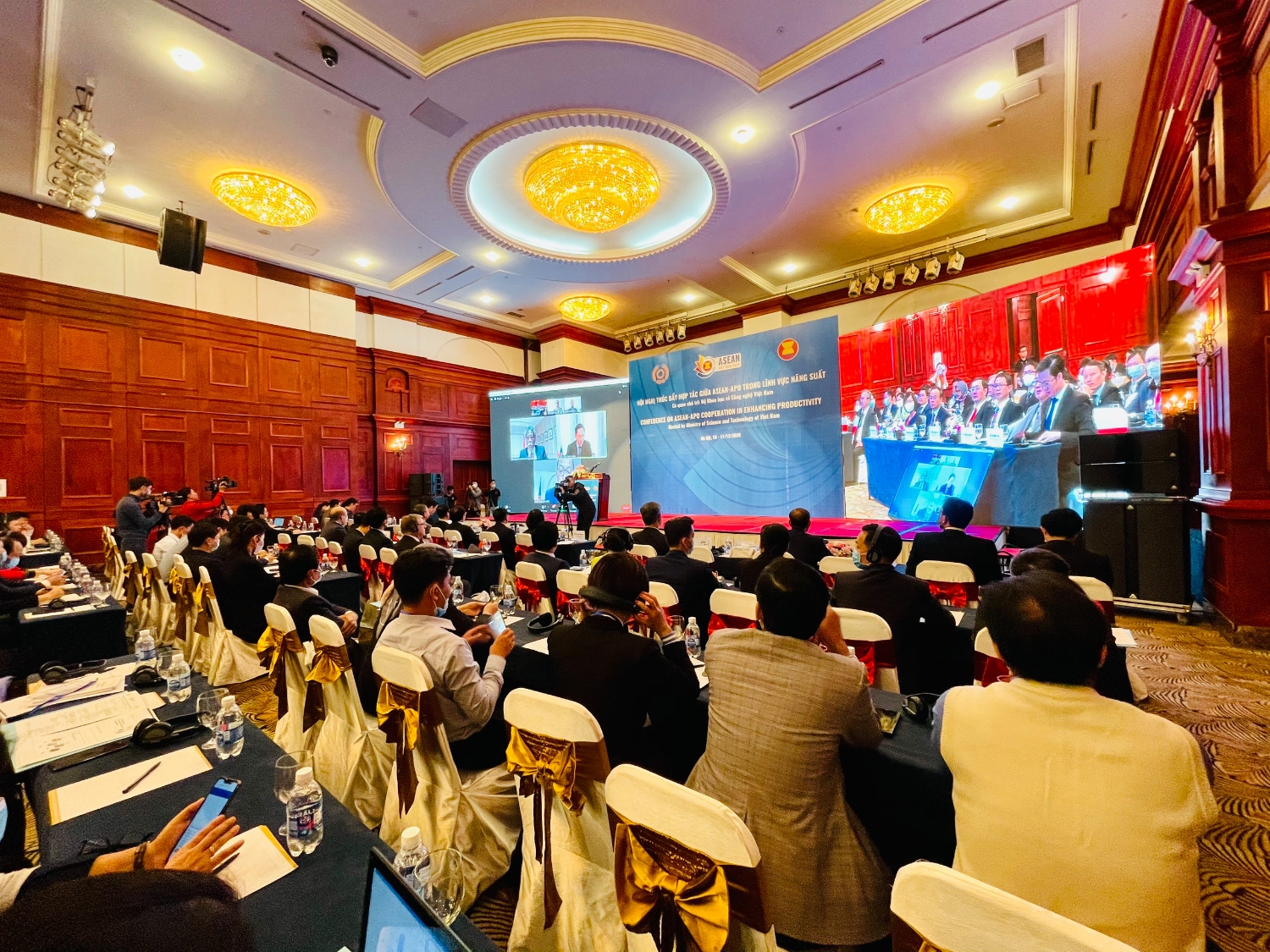 Some speeches at the conference:
The speech of ASEAN Secretariat
- Digital transformation trend- active connection
- Trade agreements with some countries: China, Japan..
- Free trade agreement RCEP
- ASEAN towards market integration, economic community
- Enhance supply chain connection ability, implement institutions for enterprises
- Human moving
- Promote public-private partnership PPP => ASEAN follows multilateralism- market expansion
The speech of APO Secretariat
- Introduction about APO- APO members- Services for member countries- APO vision 2025 "Rising productivity, innovation in Asia- Pacific" on product, process and business model innovation
- Productivity 6.0- Impact into all segments of society and economy. Fairly sharing the results of productivity improvement- innovation- leading. Focus on product, process and business model innovation.
- Ongoing initiatives:
1. APO productivity data book
2. Labor productivity index (with ASEAN)
3. Statistics and productivity growth methods (with OECD)
4. Talk about productivity
5. Enhance the digital capabilities of member countries
6. Develop the innovation plans and national productivity
The speech of Mr Dr John Yong- in charge of innovation center- Chair of productivity standards committee of Singapore
- Productivity enhancement
- Towards Smart Nation
- TAP: Technology Application Program- launched in 2013
- Activities to promote technology application
- Tool kit: has developed a standard tool kit to help the enterprise use appropriate standards to develop Industry 4.0 technology.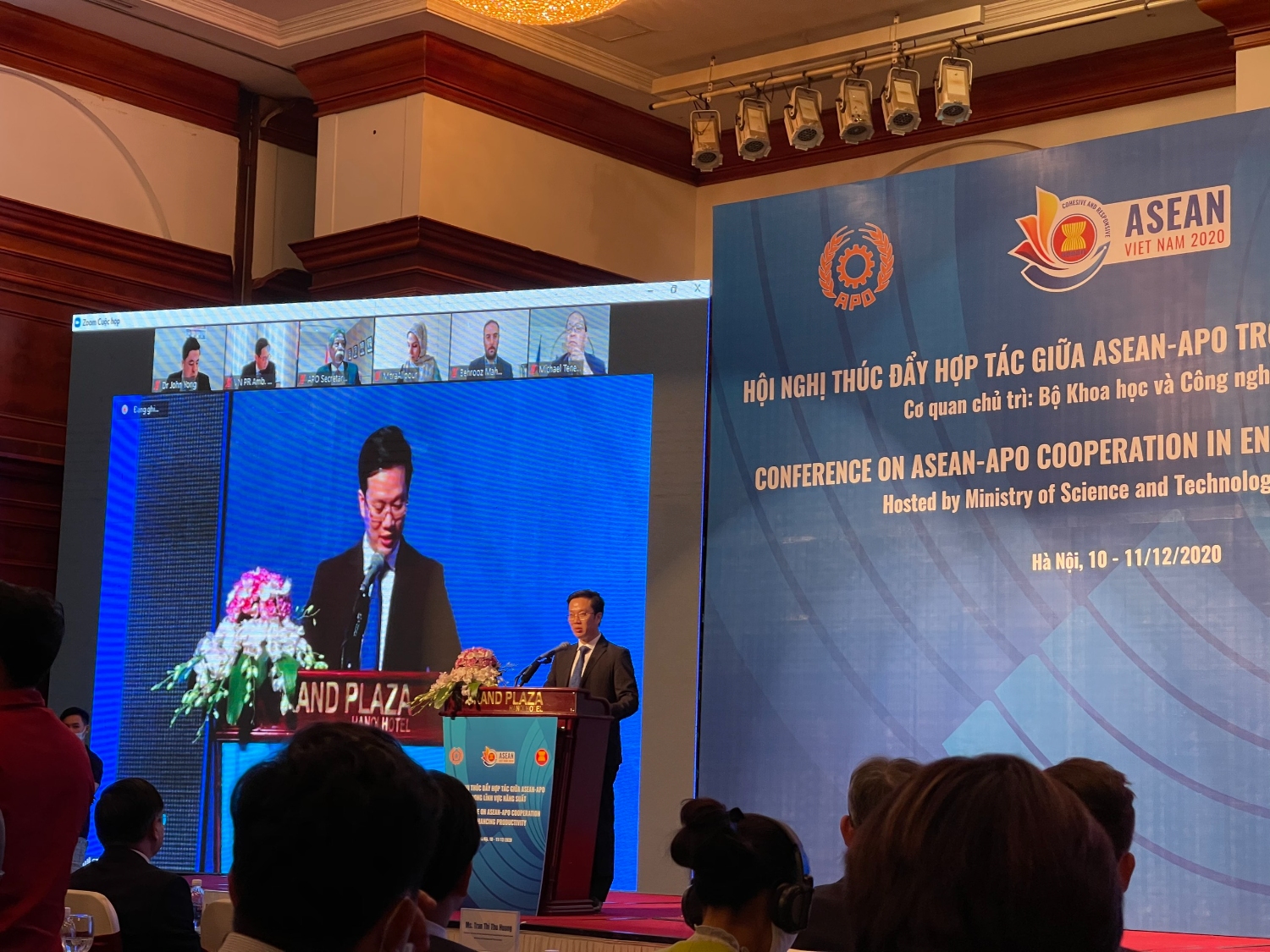 The speech of Mr Ha Minh Hiep
- Develop the general plan to increase productivity
- Creativity innovation system to promote productivity in the company
- Enhance the ability to absorb technology, innovative science and technology
- Type of enterprise of science and technology- high technology- type of start-up innovation: potential, exploiting intellectual property- sticking to ISO
- Survey the industries that enterprises are interested, especially in the field of R&D- R&D Support Fund- National Support Programs
- Application of APO project- the program approved by the Prime Minister- Innovative ecosystems: techfest, techmax,…
- The participation of academia: universities, experts, research institutes.
- Mainly large enterprises, FDI enterprises- need to strengthen the connection between research institutes and enterprises in the economy.
- LEAN model, 6 sixma model
- The Prime Minister signed an extension of the program for an additional 10 years for the Institute of Productivity- Innovation index: level 42- 4 cores: Innovative science and technology- State enterprises- Education and Training- Connective foreign enterprises.
- 4 tasks: promoting technology development- improving productivity- developing human resources- enhancing technology application capacity- cooperation plan: ASEAN- APO
Together with Chairman Mr. Nguyen Kim Hung, Chairman of Kim Nam Group, follow up the conferences for SMEs - Build a smart city for SMEs.