Mutual love and help to repel the Covid epidemic of Kim Nam Group together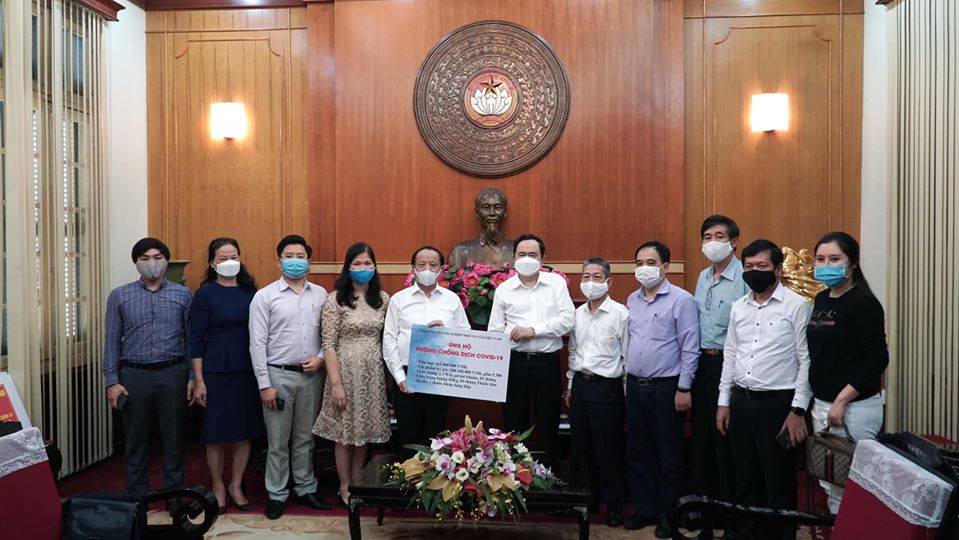 The global epidemic named Covid is causing the world to experience economic crisis, except for VietNam. The Ministry of Information and Communications, the Ministry of Health, the Central Vietnam Fatherland Front and the Vietnam Red Cross have called on everyone to support Covid's prevention.
Responding to the government's calling, Kim Nam Group unanimously agreed with the small gifts, that hoped to make a small contribution to effective epidemic prevention. Therefore, on April 20, 2020, Chairman of Kim Nam Group - Mr. Nguyen Kim Hung presented gifts in the amount of 162,000,000 and 308,000,000 million equivalent to items) to the Vietnam Fatherland Front.
Representatives of the Vietnam Fatherland Front stated that Today, on behalf of the organizers, we would like to thank all the staff of Kim Nam and Vinasme for their contributions, sacrifices and dedication to giving meaningful gifts to the Central Vietnam Fatherland Front.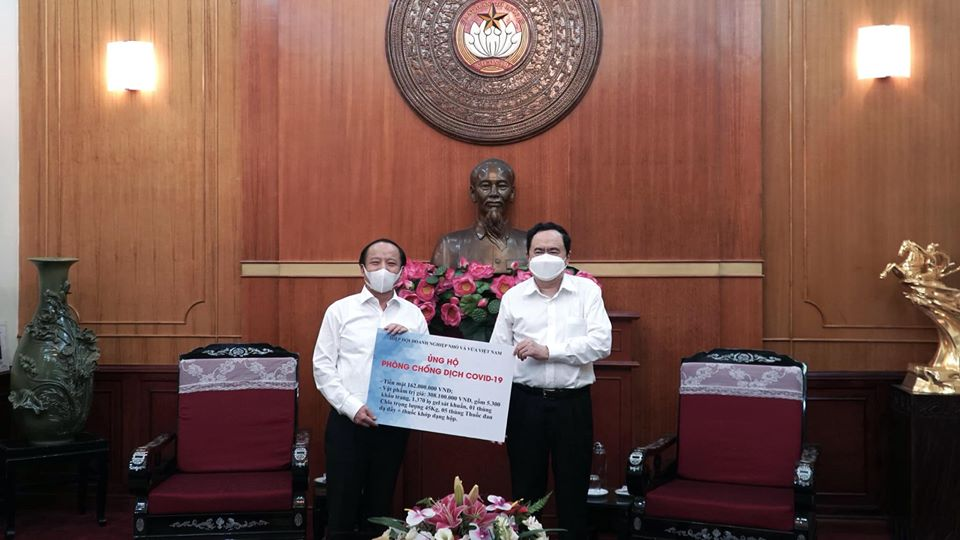 Mr. Nguyen Van Than - Chairman of the Association of Small and Medium Enterprises presented donation fund to the Committee of Vietnam Fatherland Front
Covid19 appeared from the end of November 2019 in Wuhan in China's Hubei province, but it is an impact globally with a high number of infected and fatalities. Although the government has introduced many solutions to limit the spread of the epidemic, there are a lot of people that are affected by the epidemic and had a difficult life.
Some recent statistics are showed that according to quick statistics from some provinces, the unemployment situation is happening quite complicatedly, with a large scale. In Ho Chi Minh City, in February, 9,872 unemployed workers filed for unemployment insurance, an increasing rate of 4,408 people (80.67%) is compared to January 2020 (5,464 people) and an increasing rate of 3,607 people (57, 57%) is compared to February 2019 (6,265 people).
In which, unemployed workers are mainly in FDI enterprises: 1,676 people (accounting for 17%) and private enterprises: 7,673 workers (accounting for 77.7%). Among the total unemployed and unemployed workers in the manufacturing industry is 5,264 people, accounting for 53.3%; Other service activities: 2,603 people, accounting for 26.3%.
Epidemic happen in a complicated manner all over the world. However, Vietnam is one of the countries that is controlling well the epidemic now. To mention this great merit, it is impossible not to mention the front-line team of doctors who fight against epidemics. They sacrificed themselves to bring safety to all people. They temporarily giving up their personal worries are ready to accept the task. Protective equipment and medical equipment are essential to curb the spread of disease.
All Corona prevention donations will be used to support the medical equipment and essentials needed to protect the team of doctors, nurses, and police soldiers and soldiers that directly contact with sick people; support for infected and suspected infected people to be isolated, isolated at home or in areas where epidemic is being zoned.
Hopefully with mutual affection and sharing difficulties, Vietnam will defeat the enemy named Covid - 19. Thank you to all Kim Nam Group employees for joining hands together. overcome this difficulty.